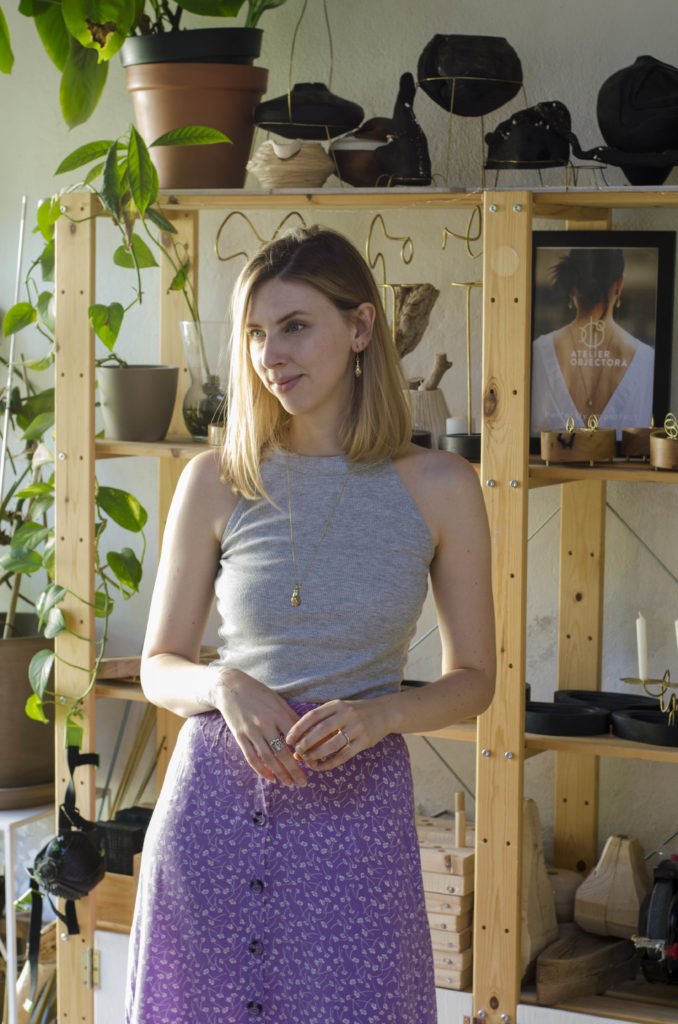 Hello there! My name is Mya Javorková, and I am the creative force behind the brand Atelier Objectora. My passion lies in the creation of objects, regardless of whether they are intended to be worn as jewelry or enrich our living space. This fascination was triggered by working with wood, a material that has been a part of my life since 2016. I was first introduced to woodcarving while studying at the puppetry department at the Theatre faculty of the Academy of Performing Arts in Bratislava, where I discovered the therapeutic and rewarding nature of the craft. Over time, I expanded my skills to include other methods of wood processing, and some other exciting materials such as brass and other metals, and other natural materials.
I am constantly experimenting with different techniques and materials, and I strive to push my own boundaries with every new project. My work often involves an intersection and dialogue between different disciplines and materials, which allows me to find new and exciting stories in every object that I create. While I originally pursued a career as a theatre costume and puppet designer, I soon discovered that my true passion lies in creation and design of jewelry and objects.
I see myself as a multidisciplinary artist and designer, as my work encompasses a variety of different materials and disciplines. I create objects that are both utilitarian and sculptural, with a focus on jewelry, objects and vessels. Wood carving remains a dominant technique in my work, as it is the method that brought me to where I am today. Working with wood requires a great deal of concentration and knowledge of the material, as it is a living substance with its own life cycle. When I hold a piece of wood in my hands, I am aware that I am handling something with its own story, and I approach each project with a deep respect for the material.
I currently divide my work into personal projects and product creation. My personal projects are exhibited under my own name and are purely artistic sculptural objects and jewelry, while my product creation falls under the Atelier Objectora brand that I founded in 2019. Whether I am creating a utilitarian object or a purely sculptural piece, everything that I make comes from my own authenticity and my own imagination.
Thank you for taking the time to learn a little bit about me and my work. I hope that my passion for art and craft shines through in everything that I create, and I look forward to sharing my art with you.
---